Man, I feel like a woman!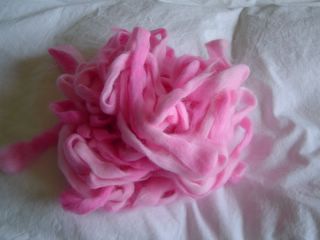 You know what's great about being female? Aside from not having to worry about zipping yourself up? Its PINK! I just love the color pink. It comes in the palest ballet pink, to knock your socks off hot pink, to dark and moody raspberry pink with everything in between. Pink is the only color powerful enough have an overdose level. I mean, you never hear someone say, "There was just so much blue there, it made me sick to my stomach." But overdose on pink and you can make the whole world queasy. Its just that powerful. Now supposedly men are starting to get into pink, but I don't seriously see that sticking around for long. I think pink is and will always be a celebration of women and all things female.
Where am I going with this? Well, this weekend I dyed the 2 ounces of kid mohair and angora (all together now...Oooooooooooh) pink. I used the new pink Easter egg dye color and I got the prettiest shades of pale pink. It ranges from a ballet pink to a pale bubblegum. When its spun it will be soft and fluffy and the angora will bloom in the most lovely, girly way. I'm going to ply it with the merino and bombyx silk top I also got at MDS&W from Blue Moon Spinnery. Its called Guardian of Fire and it basically has every shade of pink, coral, salmon, and plum that currently reside in my lipstick stash. It should be gorgeous, dontcha think?
By the way, just in case you were wondering, my favorite color is blue.