Show and Tell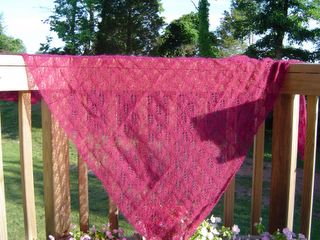 I'M BACK! Today we have blog show and tell! This is the first ever lace knitting I did. Its Birch from one of the Rowan fall magazines. Knit in Kidsilk Haze. The color is Poison, which unfortunately has been discontinued. Its actually a little bit darker but the sun was shining on the silk core of the yarn, making it look lighter than it really is. I made this about a year or so ago, and I just love it! Poor thing could have used with a light steaming before its photo shoot. It got stacked under a linen wrap which is much heavier than it is.
On the AC front, we have that problem sorted out which is why I'm blogging again. Mickael has been working the midnight shift so he needs to sleep during the day, and the only room in the house with a bed in it that's cool enough to sleep in has been the downstairs which is our guestroom/computer/workout room. I've been able to get online briefly every day, but after I sort out the 100 or so emails from the Mystery Stole group (more than 500 now!), I just haven't had time to blog.
In knitting and spinning news, I finished the first of the seaweed socks and will start the second this weekend, I've been spinning on the pale pink kid mohair and angora, but you've seen that, its pink, its on a bobbin. I've also cast on for the front of my pink tank. Remember ages back, I finished the back of it? Its the bright pink of the pink Peeps at Easter? Well, with the Mystery Stole (kinda felt like I should finish that before the rest of the group, seeing as I was designing it), the front got pushed to the back burner, so now I can work on it. Fresh photos next week of everything. Have a great weekend!