Dress finished and more lipstick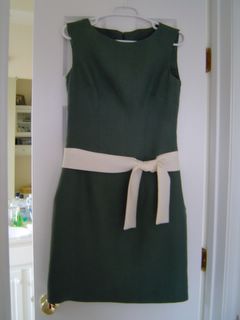 All finished! This is the dress I'm wearing to the wedding tomorrow. Its made of linen, which is a wonderful fiber to use when you have to crank a dress out in under 48 hours. No slippery silliness here, thank you very much. Just in case you're interested, the pattern is
Butterick 4386
. I'll wear the ivory Feather and Fan wrap to keep the A/C chill off my shoulders. I also found some really cute ivory slingbacks ($16 at Nordstrom Rack - WOO HOO) that I'll wear.
I also finished plying the leftover Guardians of Lipstick singles (can Merino and Bombyx really be leftovers?) and I got 225 yards of two ply! I weighed the skein of Fluffy Lipstick and it weighs 3-3/8 ounces. I was curious and also, I'm pretty much weighing everything since I got the scale. We interrupt this blog message to make an important announcement: Melanie has just learned how to put more than one picture in a blog entry - double WOO HOO! Ok, anyway, the bottom skein is the one you saw yesterday (the color is better today) and the top skein is the Guardians of Lipstick plyed on itself that I finished yesterday afternoon. I love the way they look together, there is enough to do an edging on the larger skein, and I've already started designing for it!
One other note, 12 years ago tomorrow, my husband Mickael and I got married and I just want to say thank you! Thank you Mickael for being the best husband I could ever have, for being a wonderful father, for being supportive of my fibery ways even when you don't understand them, and for loving me, even when I tell you, "Just let me finish this row." I love you!